RELEASE YEAR: 2021
LANGUAGE | RUNTIME | SUBTITLE: English |80 mins.| NA
GENRE: Animation
DIRECTOR:  Leo Lee
TERRITORY RIGHTS: Worldwide


SYNOPSIS: The once beautiful Planet Kepler is now dry and near destruction, after its precocious Callaro plant was exploited to extinction. Three brave space kids – Axel, Jono, and Gaga – embark on a daring mission to rebuild their desolate planet.
Highlights:
A 17'000,000 USD well-made animated film with an engaging storyline.
Animation and Motion graphic effects at par with Ice Age.
Screenplay and theme a perfect combination of Wall-E and Avatar.
Perfect watch for Sci-Fi lovers across age groups.
Mysterious Circumstance:
The Death of Meriwether Lewis
RELEASE YEAR: 2022
LANGUAGE | RUNTIME | SUBTITLE: English |114 mins.| NA
CAST: John Schneider (The Dukes of Hazzard), Evan Williams (Versailles), Billy Slaughter (The Magnificent Seven), Lance E. Nichols (The Curious Case of Benjamin Button)
GENRE: Historical, Mystery
DIRECTOR:  Clark Richey
TERRITORY RIGHTS: Worldwide
SYNOPSIS: The mysterious death of Meriwether Lewis at a remote wilderness Inn is investigated by his friend Alexander Wilson but ends up in a tense encounter with the only witness to the famed explorer's final night alive.
Highlights:
Mysterious film based on a countryside film shot cinematically.

Won 19 awards across International film festivals for Best Director, Best Feature film, etc.

Cast have been critically acclaimed for their performance in the films mentioned.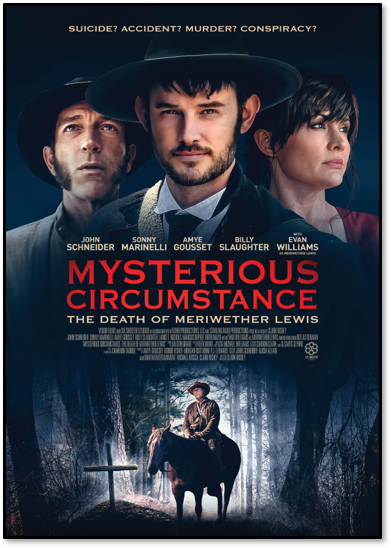 A Family Matters Christmas
RELEASE YEAR: 2022
LANGUAGE | RUNTIME | SUBTITLE: English |90 mins.| NA
CAST: JoMarie Payton (Family Matters), Kellie Shaygne Williams (Family Matters), Tamieka Chavis (Forgettable Life of Liam White), Melan Perez (Gaslight), Xaiver Alvarado (Deception), Cheyenne Cummings (Six Hearts One Beat)
GENRE: Christmas, Family, Urban
DIRECTOR:  Lavern Witt
TERRITORY RIGHTS: Worldwide
SYNOPSIS: Christmas is anything but ordinary when three bickering siblings from a newly blended household cannot see eye to eye. The youngest one, while completing his annual science project, accidentally calls upon the spirit of Christmas. They wake up to find themselves having switched bodies, unable to change back until they learn to spend the holidays together as a loving family.